Locating Your Textbooks
---
Purchasable textbooks are located on the ground level of Moraine Hall, while rentable textbooks are in the basement. Class books are arranged first by college, then by department, then by class within each department to match the semester timetable.
Bring a list of your classes with your instructor, course number and section. This can be printed off of your WINS account.
Reading Shelf Cards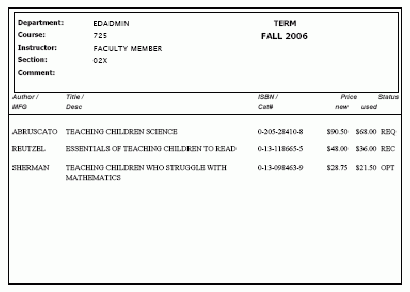 This is an example of a typical shelf card.
1. First, go to the correct area of the shelves for your class - for example, "Arts/Communication" or "Business."
2. There are several ways to find a card for your class: you can look at the section number, faculty name, and course number. Be sure that all three match!
3. Look at the title(s) and author(s) listed in the lower half of the card. These are the books required for your class. These also list the price for both the new and used versions of the books. Used books will have a lower price and have a yellow "used" sticker on the spine. As we have a limited supply of these books, it is best to arrive early if you want one.
4. You will find the books located on the shelves in the vicinity of this card; sometimes we are pressed for space so be sure to look very thoroughly above, below, and to either side of the card. If you still can't find them all, ask an employee for assistance.
5. Don't be alarmed if these books also appear on other shelf cards. Some classes overlap.
These rules apply to rental books as well, with the exception of the prices on the cards and that books in textbook rental are arranged first by department, instead of college.